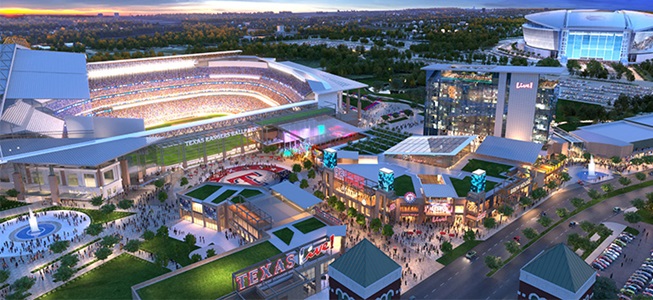 Arlington: Swinging for the Fences
Arlington has spent more than 60 years building itself into a powerhouse of sports, entertainment, and manufacturing in North Texas. Now, it's building a reputation for corporate relocation and logistics, too.
This article originally appeared in the Dallas-Fort Worth Real Estate Review.
A home run. A touchdown. You can pick your sports metaphor when it comes to the city of Arlington becoming a dynamic part of the North Texas economy. The city's hard work and foresight has made it much more than just the midway point between Dallas and Fort Worth.
The impending construction of the new $1.1 billion Globe Life Field and the adjacent $250 million Texas Live! entertainment district shows that the city is committed to staking its claim as a major player in DFW.
The city's rise from being a mere road stop on what once was called the Dallas-Fort Worth Turnpike began in the middle of the last century, led by visionaries who saw its potential.
Today, Arlington sits off Interstate 30, the Tom Landry Highway, and it is arguably the entertainment and sports capital of North Texas — home to AT&T Stadium where the Dallas Cowboys play, the Texas Rangers' Globe Life Park, and Six Flags Over Texas.
The city is a center for education, research, manufacturing, and logistics.
Already a major tourism destination, Arlington rapidly is becoming a jobs magnet, too.
TEXAS LIVE! WILL BE A JOB GENERATOR, TOURIST MAGNET
Texas Live! alone is expected to bring an estimated 1,025 permanent jobs to Arlington. It will have a new $150 million Live! by Loews hotel, the first of its kind in the nation. Developers hope Texas Live!, which could attract more than 3 million new visitors to the city, will be open in time for the 2018 baseball season.
Not far from the Texas Live! entertainment district, the return of homebuilding giant D.R. Horton's headquarters campus from Fort Worth to Arlington is another win the city can claim. Horton's relocation in June shows the city's draw for corporate residents.
The headquarters building sits on the north side of I-30 at 1341 Horton Circle, not far from Globe Life Park and AT&T Stadium.
It's the second time the nation's largest homebuilder has moved from Fort Worth to Arlington, the first time in 1993. Horton moved back to the Sundance Square area of Fort Worth in 2004, where it remained for 13 years.
The four-story headquarters building provides great exposure for the company — its brand faces the access road east of Collins Street in full view of the thousands of people who go to events at Globe Life Park and AT&T Stadium.
The stadium, entertainment district, and D.R. Horton are the latest in Arlington's drive for success.
Here's how it all started.
In the years after World War II, Arlington found itself on a similar trajectory as suburbs across the U.S. were transforming into bedroom communities. Most of the jobs and big attractions were migrating to the big cities.
In 1951, Tom Vandergriff took Arlington in a different direction — it was something of an interception, much like the Dallas Cowboys defensive backs who someday would play in Arlington.
The then-25-year-old Vandergriff ran car dealerships with his father, and he knew General Motors wanted to build a plant in North Texas. Even as president of the Arlington Chamber of Commerce, Tom Vandergriff couldn't get GM's CEO in Michigan to return his phone calls.
The rejection drove Vandergriff to seek political office in Arlington. Undeterred by rumors that Fort Worth was destined to get the plant, Vandergriff ran for mayor, won the race, and began pursuing GM in earnest. "Within four months of being mayor, he had outmaneuvered Dallas and Fort Worth to get the GM plant," says Tom's son, Victor Vandergriff. "He just had a vision that he wanted to be a part of. He tried to create a city and an atmosphere to where Arlington would grow the fastest."
Today, the 4.3-million-square-foot GM plant employs more than 4,100 people, pumping $1 million a day into the local economy. GM is spending $1.4 billion to expand the plant to meet future demand for SUVs.
And that's just the beginning of how Arlington developed its own identity and, as former Mayor Richard Greene quips, became "nobody's damn suburb."
"There's just a certain civic pride and work ethic that, to me, has always existed to take the things that are really hard to do and go get them done," says Trey Yelverton, Arlington city manager, who has been with the city since 1993.
SPORTS AND ENTERTAINMENT
Arlington's love affair with entertainment started as a fling. Businessman Angus G. Wynne wanted to expand the already successful Great Southwest Business Park, but couldn't find an industrial user for a large patch of land.
So, he started an amusement park on the site called Six Flags Over Texas as a placeholder for future industrial development.
"The weird dynamics of all that, is that the economics of industrial development never could overtake it," Yelverton says. "The tourism side had its own economic base that was stronger than that."
And that's just the beginning.
In the late 1950s, Vandergriff began his crusade to bring America's Pastime to Arlington. A passionate baseball fan, Vandergriff saw the sport expanding to new cities across the country and tried repeatedly to put ownership groups together to form a new team.
"The owners were always a combination of someone from Dallas and someone from Fort Worth," Victor Vandergriff says. "He was the leader of it all."
Vandergriff tried six or seven times throughout the 1960s, but Arlington continued to lose to other cities because of the condition of Turnpike Stadium.
Finally, his luck changed in the 1970s.
"He was tipped off that the Washington Senators, early in 1971, might be amenable to relocating but they would need help," Victor Vandergriff says. "So he went after them."
After 13 years and a mountain of rejections, Vandergriff's persistence paid off as the Senators moved to Turnpike Stadium in 1972 and became the Texas Rangers.
That put Arlington on the national sports map and would be a harbinger of things to come. By the 1990s, the Rangers needed a new stadium, putting then-mayor Greene on the hot seat to find funding for a stadium before another city lured them away.
"Mayor Greene faced a very real threat of the team moving somewhere — at one time to Tampa Bay or Miami," Victor Vandergriff says.
There was even talk of Dallas stealing the Rangers.
ARLINGTON RAISED SALES TAX TO BUILD A BALLPARK
The Arlington City Council made a fateful decision in the early 1990s to propose raising the sales tax a half-cent to pay for construction of a new stadium. The election in January 1991 was contentious, but it did pass with a nearly two-thirds majority vote.
"We realized that the first one was going to be toughest. And it was. But we won," says Robert Cluck, who was Arlington's mayor from 2003 to 2015.
The Rangers Ballpark in Arlington, now known as Globe Life Park, hosted its first game in April 1994. That half-cent sales tax paid down the debt for the ballpark, allowing the city to pursue another big fish — the Dallas Cowboys.
Cluck was Arlington's mayor when he found out Cowboys owner Jerry Jones wanted out of Texas Stadium in Irving. Cluck arranged a meeting in Valley Ranch to talk about the possibility of moving America's Team to Arlington.
"He and I had a relationship — we were friends," Cluck says. "The first thing I said to Jerry was, 'You can do no better than Arlington. I can almost assure you that the Council and the citizens of Arlington would be very receptive and help you economically."'
They shook hands within the hour, and the deal was done. They just had to get voter approval to continue the half-cent sales tax that had paid for the Rangers stadium.
v"It scared me to death. We're talking about millions of dollars," Cluck says. "He turned out to be the most honest person I ever met. Whatever he said, he did. No matter what the expense."
Voters approved Cowboys Stadium, now known as AT&T Stadium, and construction started in 2006. The stadium made its debut in the 2009 NFL season and hosted the 2011 Super Bowl.
In 2016, rumors swirled that the city of Dallas could offer the Rangers a new stadium with a retractable roof near downtown when the lease ended on Globe Life Park in 2024.
Arlington took preemptive action by again asking voters to renew the half-cent sales tax to fund a new Rangers ballpark to be called Globe Life Field. It will have a retractable roof and is scheduled to open for the 2020 baseball season.
Construction started earlier this year just south of the existing ballpark. Next door, Texas Live! with restaurants, a hotel, and outdoor entertainment also is under construction. The first phase of Texas Live! is scheduled to be completed by late summer 2018.
"[The new air-conditioned stadium] will help with attendance during the summer," Cluck says. "That's going to be something to see. It's going to have not only a ballpark, [but also] entertainment venues, and a hotel — and all that's going to be great for the city."
GM PLANT DRIVES ARLINGTON'S ECONOMY
Tom Vandergriff first got into politics to lure General Motors to his town in the 1950s, but it was up to future mayors to keep the GM Assembly Plant from leaving.
Greene was mayor when he got a phone call from a GM executive. "It was basically the chairman of General Motors telling me they were likely going to close the plant," Greene says. "Losing the plant not only would have been a blow to our local economy, but it would have been the loss of the whole achievement that got Arlington started."
Greene mobilized a congressional delegation that included the governor to fight hard to keep the plant open. GM not only kept the plant open in the 1990s but retooled it to manufacture all their full-size SUVs from GMC, Chevrolet, and Cadillac.
During Cluck's term as mayor, GM officials expressed interest in expanding the plant, but they needed incentives from the city. GM didn't threaten to close or relocate the plant, Cluck says.
"They never said that to me, but the inference was there," Cluck says. "I didn't want to be the mayor who was there when we lost GM."
The effort to keep GM extended into current Mayor Jeff Williams' term and ended with GM promising a $1.4 billion expansion. For its part, Arlington committed $28.7 million in tax breaks as long as GM maintained staffing levels.
Today, the plant produces 1,200 vehicles per day with three shifts, and the expanded body shops, paint shop and general assembly areas are scheduled for completion in late 2018.
"It's one of the few plants that never shuts down the assembly line," Greene says.
Arlington has become a hotspot for logistics, too, with UPS building a $200 million package operations facility on Bardin Road near the junction of Texas 360 and Interstate 20.
The facility is scheduled to open in late 2018 with 1,400 full-time equivalent jobs and the latest technology for processing packages and mapping routes.
FedEx is following close behind with plans to lease a 365,000-square-foot distribution center on Bardin Road and I-20. Williams Sonoma and Office Depot also have distribution hubs in that area.
And, Summit Racing recently opened a retail/warehouse facility near the junction of I-20 and Texas 360.
"The industrial demand in that corridor has been strong," Yelverton says. "The future of that was laid out in a land-use plan in the late 1990s."
UT ARLINGTON COULD CHALLENGE ITS BIG BROTHER IN AUSTIN
Like the city itself, The University of Texas at Arlington has shed many stereotypes to become a national powerhouse. For years, it was known as a commuter school with no football program. The basketball team played on a theater stage.
Now, UTA has more than 41,715 students enrolled on campus and thousands more taking online classes. The rapid development around downtown Arlington means the university now has more than 10,000 students living on campus or nearby.
"We have drawn the attention of many private student apartment developers from all over the country who are developing sites adjacent to the campus," says John Hall, UTA's vice president for administration and campus operations.
Yelverton called UTA the largest economic generator in the city with an annual impact of $1.3 billion. "Clearly, it's a state institution so they don't pay any taxes," he says. "You need that brainpower developing. What they put into the economy is significant, and we have to work hard to keep it strong."
The campus will add another 2,500 beds over the next two years. Tower cranes loom all over campus with more than 400,000 square feet currently under construction, in addition to a 1,500-space parking garage.
UTA is also the seventh-fastest growing public research university in the country over the last decade, according to the Chronicle of Higher Education. The College of Nursing Health and Innovation has seen double-digit growth in enrollment and graduation with nearly 25,000 students attending classes in person and online, making it one of the top five in the country. Anne Bavier, dean of the UTA College of Nursing, says it's become a leading destination for health care education and research.
The addition of College Park Center not only gave men and women's basketball and volleyball teams a place to play, but attracted the WNBA's Dallas Wings to locate in Arlington and move away from Tulsa, Oklahoma.
"College Park Center has had a tremendous impact on the spirit of being a Maverick," Hall says. "The feeling among students about the center is almost palpable. It allows for better recruiting."
In addition, discussions are ongoing for the Mavericks to add women's soccer in the next few years, Hall confirmed. Restoring the football program, though, is still years away, if ever. "If sufficient funding were raised, the university would consider bringing back football," he continues.
College Park Center hosts concerts, high school graduations and special events.
Downtown Arlington has become a popular destination for UTA students with new restaurants and attractions within walking distance. More road, park and trail improvements are planned. "The upcoming improvements to Abram Street along with UTA's continued growth will incentivize further the redevelopment of downtown Arlington," Hall says.
Arlington's leaders continue to steer the city toward a booming future that's rooted in the visionary minds of the past.