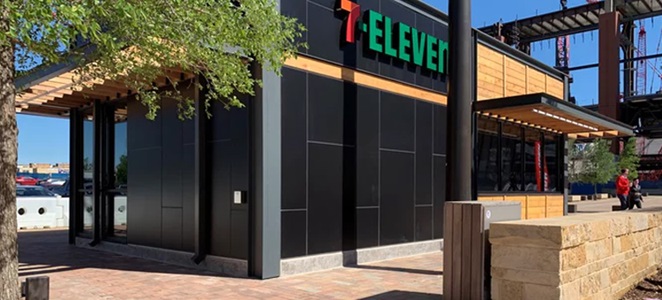 7-Eleven opens new store right between Texas Rangers', Dallas Cowboys' stadiums in Arlington
7-Eleven once again is going after Texas sports fans by opening a store Friday where they congregate in Arlington.

The Irving-based convenience store chain on Friday (April 19) opens a new location between Texas Rangers' Globe Life Park and the Dallas Cowboys AT&T Stadium in Arlington.

The store is located on the plaza of Texas Live, a $250 million entertainment district that opened last summer and is backed by the Texas Rangers, The Cordish Companies and the City of Arlington.

The 7-Eleven is small at 700 square feet, or less than half the size of an average store, but will stock most food, drinks and other convenience store basics.

"Our goal is to make life easier for our customers and provide game-day essentials at a one-stop shop," said Charles Bantos, 7-Eleven's director of corporate development. The store will be open limited hours, 7 a.m. to 11 p.m. Sunday through Thursday and 7 a.m. to 3 a.m. Friday and Saturday. Operating hours will expand to accommodate events in the entertainment district.

Last fall, 7-Eleven opened its first location in a sports venue at Texas Motor Speedway and said it's been a success. It's a much larger store to stock more things to accommodate race week campers.

An aside: Globe Life Park, which opened in 1994, is in its final season as the home of the Texas Rangers. The new Globe Life Field, which is adjacent to Texas Live! and features a retractable roof, is scheduled to open in March 2020.
View article online here.