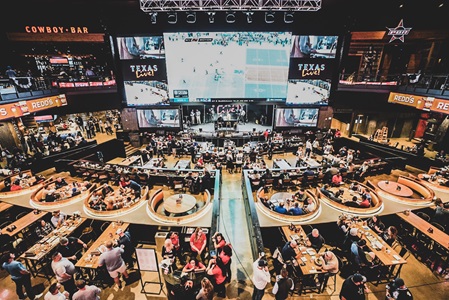 THE ACTION
STARTS HERE
Sports Watch Capital of Texas
Texas Live!
offers the
ultimate
sports watch
experience for all
. We love the diehard fans, the fantasy football gurus, the brunch boys, the game day girls, and everyone in-between. Ditch your couch and join the only
atmosphere better than the stadium.
Plan Your Visit to Texas Live! for the Game
If your team is playing, we'll be watching. Take a look at the various sports watch options below before you visit.
PREMIUM RESERVED SEATING
Want to reserve a table for you and your crew? We've got you covered. Premium Reserved Seating is available any time the game is on.
To reserve in advance, please email info@texas-live.com
TEXAS RANGERS GAMES
Watch the Rangers compete all season long! We offer Premium Reserved Seating for both home and away games.
To reserve in advance, please email info@texas-live.com
WALK-IN VISIT
Swing by for the big game, but please remember we can't promise you a table in Live! Arena if you don't reserve a table in advance. Make sure to check out any of our other nine venues while you are here!
PARKING INFO
Free parking available in Lot B and C, unless event at Globe Life Park, Globe Life Field, or AT&T stadiums. Please no tailgating.  
$810M phase of Texas Rangers sports, entertainment district construction approved by Arlington council

The Arlington, Texas, city council voted to continue its partnership with the MLB's Texas Rangers, Loews Hotels & Co, a wholly owned subsidiary of Loews Corp., and The Cordish Cos., and is moving forward with an $810 million expansion of Arlington's Entertainment District.

Arlington Approves $550 Million Hotel, Convention Center Project

The Arlington City Council approved a $550 million project to add a hotel, convention center and parking facility to the city's Entertainment District.

First Look: Office Space atop Globe Life Park, convention center and more (Renderings)

The City of Arlington approved a TIRZ package on Tuesday for a massive $810 million second phase of Texas Live!, and its development team is sharing renderings of what to expect from the addition.