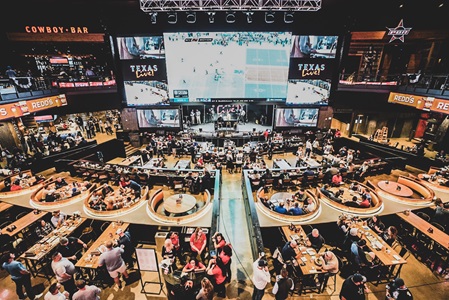 THE ACTION
STARTS HERE
Sports Watch Capital of Texas
We've Got The Game-Day Goods
Texas Live! offers the ultimate sports watch experience for all. We love the diehard fans, the fantasy football gurus, the brunch boys, the game day girls, and everyone in-between. Ditch your couch and join the only atmosphere better than the stadium.
Arena Amenities
- Spacious indoor & outdoor seating options
- 100 ft. jumbotron-style TV
- Entertainment & prizes before, during and after the game
- NEW game day menu
- Ice cold drinks
- Backyard games and more!
Plan Your Visit to Texas Live! for the Game
If your team is playing, we'll be watching. Take a look at the various sports watch options below before you visit.

PREMIUM RESERVED SEATING
Want to reserve a table for you and your crew? We've got you covered. Premium Reserved Seating is available any time the game is on.
To reserve in advance, please email info@texas-live.com
KROGER GAME DAY LIVE!
For Dallas Home Football and College Football Games*
Purchase your ticket ahead of time to jump the line. Grab yours before we sell out!
Click Here to Select Your Dallas Home Game
DALLAS STARS WATCH PARTIES
Win Dallas Stars game tickets and official memorabilia while watching the Stars on the 100ft big screen!
Click Here to Select Your Game
WALK-IN VISIT
Swing by for the big game, but please remember we can't promise you a table in Live! Arena if you don't reserve a table in advance. Make sure to check out any of our other nine venues while you are here!
PARKING INFO
Free parking available in Lot B and C, unless event at Globe Life Park, Globe Life Field, or AT&T stadiums. Please no tailgating.  
---
*All guests are required to purchase the Kroger Game Day Live! General Admission ticket in order to enter Texas Live! on Dallas home games days. This includes guests who have Premium Table Reservations and/or the Miller Tavern Buffet package.
**On certain days where a major college football game is taking place at any of the stadiums within the entertainment district, a admission charge may be applied to enter Texas Live!.
$810M phase of Texas Rangers sports, entertainment district construction approved by Arlington council

The Arlington, Texas, city council voted to continue its partnership with the MLB's Texas Rangers, Loews Hotels & Co, a wholly owned subsidiary of Loews Corp., and The Cordish Cos., and is moving forward with an $810 million expansion of Arlington's Entertainment District.  

Arlington Approves $550 Million Hotel, Convention Center Project

The Arlington City Council approved a $550 million project to add a hotel, convention center and parking facility to the city's Entertainment District.

First Look: Office Space atop Globe Life Park, convention center and more (Renderings)

The City of Arlington approved a TIRZ package on Tuesday for a massive $810 million second phase of Texas Live!, and its development team is sharing renderings of what to expect from the addition.