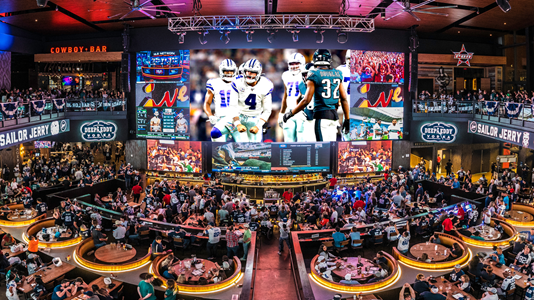 THE ACTION
STARTS HERE
Entertainment Capital of Texas
Plan Your Visit to Texas Live! for the Game
If your team is playing, we'll be watching. Take a look at the various options below before you visit.
Texas Live! offers the ULTIMATE fan experience for all. We love the diehard fans, the fantasy football gurus, the brunch boys, the game day girls, and everyone in-between. Ditch your couch and join the only atmosphere better than the stadium.

TEXAS RANGERS

Score BIG with us all season featuring delicious game day eats, cold drinks, pre and post entertainment on select game days and more!
Located next door to Globe Life Field.
Stay tuned for more info on the 2024 season!

DALLAS FOOTBALL
Grab the crew - IT'S GAME TIME! Catch all the action this season at Texas Live! for Dallas Home and Away games. Live entertainment, crowd games, giveaways, 100ft screen, a variety of food & beverage offerings, and more!
Located walking distance to the stadium.
Free Entry for Dallas Away Games | $10 General Admission for Kroger Game Day Live! Dallas Home Games
GET TICKETS FOR KROGER GAME DAY LIVE!
RESERVE YOUR TABLE IN SHIFT4 ARENA
Don't worry, we also show all the Dallas away games!
RESERVE TABLE FOR DALLAS AWAY GAMES

COLLEGE FOOTBALL GAME WATCH
Join us on Saturdays to catch all your favorite college games. Game day grub, cold drinks,
and an unbeatable sports watch atmosphere!
CLICK HERE TO MAKE A RESERVATION IN SHIFT4 ARENA

CHOCTAW GAME OF THE WEEK
100ft mega screen for viewing, prize giveaways, drink specials, and more during these ultimate viewing parties!
Presented by Choctaw Casinos & Resorts
GAME SCHEDULE:
Friday, Oct. 20th - Rangers vs. Houston
Friday, Oct. 27th - Rangers vs. Arizona
Thursday, Nov. 9th - Stars @ Colombus
Tuesday, Nov. 14th - Mavs @ New Orleans
Wednesday, Nov. 22nd - Mavs @ Los Angeles
Tuesday, Nov. 28th Stars @ Winnipeg
Monday, Dec. 4th - Cincinnati vs. Florida football
Monday, Dec. 11th - Mavs @ Memphis
Monday, Dec. 18th - Mavs @ Denver
Wednesday, Dec. 27th - Stars @ St. Louis

WALK-IN VISIT
Swing by for the big game, but please remember we can't promise you a table in Shift4 Arena if you don't reserve a table in advance. Make sure to check out any of our other nine venues while you are here!
$810M phase of Texas Rangers sports, entertainment district construction approved by Arlington council

The Arlington, Texas, city council voted to continue its partnership with the MLB's Texas Rangers, Loews Hotels & Co, a wholly owned subsidiary of Loews Corp., and The Cordish Cos., and is moving forward with an $810 million expansion of Arlington's Entertainment District.